Supplies to Haiti
Much-needed supplies are finally on the way to St. Joseph Clinic in Haiti! Dr. Gil Irwin and Medical Missionaries volunteers had packed them up weeks ago, but they couldn't be sent because shipments into Haiti had been halted due to the coronavirus. We are hoping the supplies make it through safely and quickly.
The need for supplies has become even greater, with shipments having been postponed and the pandemic reaching Haiti's Central Plateau. This shipment included surgical masks, gloves, cleaning agents, gowns, an oxygen concentrator, along with other sundries.
Also, in Clinic news, Medical Missionaries received an approved grant from the Jade Tree Foundation for us to continue our important work with the Maternity and Infant Care Program at St. Joseph Clinic.
Thank you from Ivory Coast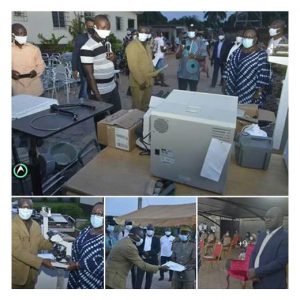 Medical Missionaries received a note of thanks for the supplies that were recently sent to the Ivory Coast. The note read, "Here are photos of the donations of medical equipment to a territorial district (Regional Council of Cavally), a region of the Ivory Coast that paid the heaviest price during the 2010 civil war. Thank you, Dr. Irwin for your donations which help improve the health of the poor."
We thank all our supporters and volunteers who make this work possible. We are preparing to send another container of supplies to Ivory Coast in June
Local Aid
The past few weeks have given rise to more requests locally.  Medical Missionaries has recently provided clothing, household items, and hygiene supplies to communities and assisted living homes near Elkins, WV. 
In response to the current restrictions in place and for the safety of our staff and volunteers, our office is still closed, and we are not accepting most donations there at this time.
Please email us at info@medicalmissionaries.org, and we will notify you as soon as we begin accepting donations again. Please consider making a monetary donation to Medical Missionaries to support these efforts. We couldn't do this work without your help!
Rock Lick Food Pantry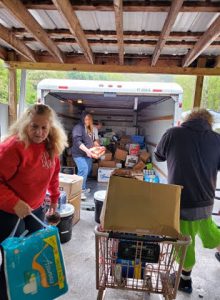 As we mentioned in last month's newsletter, Grundy, Virginia and the surrounding areas are served by the Rocklick Food Pantry, one of the only area food pantries that remains open during the pandemic.  Medical Missionaries is providing most of the food for the pantry, and we have made two deliveries of food over the last few weeks.  Workers at the pantry have reported that some in the area are living in very desperate situations, and the food and supplies that Medical Missionaries is delivering are truly making a difference for this community. 
The pictures above are of a recent distribution of the food and supplies from Medical Missionaries.  Non-perishable food donations are urgently needed, and even though the office is currently closed to accepting regular daily donations, special drop offs can be arranged by emailing info@medicalmissionaries.org or calling the office 703-335-1800.
Peter Dirr
April 12, 1941 – May 11, 2020
It is with sadness that we share the news of the death of Peter Dirr. Peter's life was a faith-filled journey. On the afternoon of May 11, 2020, he took the next step of his journey to be with God, passing away at home surrounded by his family.