Remembering Peter Joseph Dirr
April 12, 1941 – May 11, 2020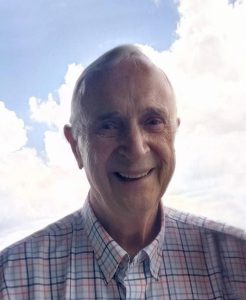 Peter's life was a faith-filled journey. On the afternoon of May 11, 2020, he took the next step of his journey to be with God as he passed away at home, surrounded by family.
Peter worked with many organizations but Medical Missionaries was very close to his heart. Peter generously volunteered his time and skills with Medical Missionaries beginning in 2009. Serving on its Board of Directors he was an integral part of the organization's leadership. Although he was involved in every aspect of the organization his focus was on supporting and expanding St. Joseph Clinic and working with the Clinic staff. He also worked closely with our Global Health Fellows to expand Clinic programs providing quality and available medical care in Thomassique and its surrounding villages in Haiti. Peter imparted wisdom and skills to the Fellows that helped inform their future endeavors, as well as the Clinic Staff.
In the course of his Medical Missionaries work Peter made over 20 trips to Haiti. Peter joined in collaborating on the development of the Community Health Program and the Community Health Workers, with the generous support of the Gerard Foundation. His work with the JadeTree Foundation influenced the direction of the growth of the Maternity and Infant Care Program. Peter truly had a positive impact on all of the Medical Missionaries programs, policies and procedures in both the U.S. and overseas. He was a trusted colleague and strong support for the Clinic staff, volunteer staff and medical teams.
We wanted to include the following words shared by Peter's family. They show the true measure of who he was to his family and community.
Peter was a loving, warm, welcoming, compassionate man who valued a deep faith and a life of service to others. One of his children described him well: "He was a good man. He was a gentle soul. He cared a great deal about his family and his faith. His steadfast commitment and generosity to his siblings, his children, his grandchildren, his community and his church were the yardsticks by which he gauged a life well lived. It enabled me and many others he encouraged to reach for new heights and dream big dreams in our own lives. We shared a lot of great adventures together."

His professional career reflected his commitment to the availability of education for wider and more diverse populations. He received his doctorate in education at New York University, and after periods at WNET–Channel 13 in New York City and SUNY in Albany and Buffalo, NY, he worked for the Corporation for Public Broadcasting, creating channels for access to higher education for students throughout the country – and beyond. He travelled extensively in the 80's and 90's, domestically and internationally, to assist in the development and implementation of ideas and strategies for incorporating distance learning into mainstream educational institutions. He later applied this same passion to his work with the US Conference of Catholic Bishops as it developed its own efforts to expand its media footprint and make its proclamation of the Good News accessible to all. He then worked for Cable in the Classroom, helping administrators and teachers throughout the country incorporate the internet and distance learning elements into their day-to-day curriculum. For many years, he served on the Board of the Open University of Hong Kong.
A small memorial mass was held at Peter's local parish church on Wednesday, May 13th: It can be watched on the Parish You Tube Channel. 
Plans for a memorial celebration for Peter are pending due to the current pandemic. Please check www.ShikanyFuneralHome.com for information in the coming months.
In Peter's memory, donations can be made to Medical Missionaries online  or by mail to 9590 Surveyor Court, Manassas, VA 20110.