Collect and Distribute Medicines and Supplies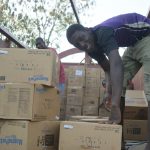 Medical Missionaries collects goods from community organizations, hospitals,  businesses, churches, other non-profit organizations, and individuals.  These goods are sent to impoverished areas of the U.S. and worldwide.   Most of the supplies are gathered in the mid-Atlantic region, from Baltimore to Richmond, and are provided by a network of hospitals, nursing homes, and medical equipment supply companies with whom Medical Missionaries has developed a relationship over the years.  Sea containers of medical supplies and equipment are sent worldwide regularly from our warehouse outside Manassas, Virginia.
Medical Missionaries also supplies medical supplies to other medical teams working for similar causes.  Medicines have been donated by Project Hope, the Catholic Medical Missions Board, and others.  Since its inception, Medical Missionaries has collected and dispersed more than $100 million worth of medical supplies and medicines.
Medical Missionaries has particularly strong partnerships with several dozen organizations and groups that provide medical services in Haiti.  These groups sponsor clinics in Haiti and send visiting teams of medical professionals to provide direct services to the poor, many of whom live in very rural and isolated parts of the country.  Through its partnership with these groups, Medical Missionaries provides medical help to an estimated 25% to 30% of the total population of Haiti.