Medical Missionaries Global Health Fellows 2020-2021
Read about our new Global Health Fellows who will be doing their year of service at St. Joseph Clinic from June 2020 through July 2021.
Kaitlyn Koontz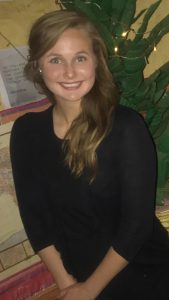 graduated from Mercer University in 2017, where she majored in Global Health and minored in International Affairs.
Since graduating, Kaitlyn served in the Peace Corps as a Community Health Educator in rural Ethiopia. Within this role, she helps lead different health campaigns, works closely with community health workers, coordinates health education about communicable diseases, and fulfills a wide variety of administrative tasks. Additionally, she works with mothers to improve WASH and nutrition practices, designed and runs an English Club focused on self-confidence, and a Girls' Club focused on gender empowerment.
Kaitlyn's passion for global health work was sparked after working with the University of Cape Town in South Africa to create lesson plans and activities for an after-school program focused on building student's self-confidence and decreasing gendered-violence. While at Mercer, she also served as an Intern at the Middle Georgia Community Food Bank and conducted research on the prevalence and effects of food deserts in Macon, Georgia.
Following the Fellowship, Kaitlyn plans to attend graduate school for her masters degree in public health and is specifically interested in epidemiology and outbreak containment. Additionally, she would like to continue contributing to initiatives working towards gender equality, especially around diseases that disproportionally affect women.