Medical Missionaries Global Health Fellows 2019-2020
The Medical Missionaries Global Health Fellowship offers recent college graduates, graduate students, or professionals interested in global health the opportunity to gain experience in health care delivery in a developing country. Fellows spend one year in Thomassique, Haiti, working at St. Joseph Clinic, where they act as liaisons between Medical Missionaries—the US-based organization that built and provides funding for the Clinic—and the clinic's all-Haitian staff. The fellowship begins in June and ends in July of the following year. During the months preceding their year of service, fellows participate in an orientation program that includes learning to speak Creole.  They report for duty at St. Joseph Clinic in Haiti in June to begin their year of service.
During their year in Haiti, fellows will coordinate health and community projects involving community health workers, traditional birth assistants, mobile clinics, water purification, malnutrition, salt iodization, and education.  They work with community leaders to implement innovative health programs in Thomassique and its outlying villages.  Fellows also fulfill a variety of administrative functions, including medication tracking, helping to organize the Clinic, and facilitating logistics for visiting medical teams. In addition to these responsibilities, fellows have the opportunity to shadow the clinic's physicians, midwives, and nurses, as well as to assist U.S. surgeons during their visits. We are grateful to these dedicated individuals for all that they do to improve the health of the people of Thomassique.
Kyra Sarazen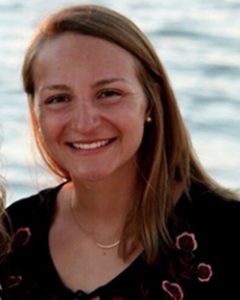 will graduate from the University of Notre Dame in May 2019, with a degree in Neuroscience and Behavior, and a Minor in Catholic Social Teaching.
While at Notre Dame, Kyra was President of Dream Teams, a student program to help inspire elementary students to excel. She also served as an Intern at St. Margaret's House, teaching reading skills to young children.
Kyra works in Notre Dame's Evolutionary Developmental Moral Psychology Lab, exploring environments that promote healthy brain development and socio-moral awareness in children. She is also Captain of the Notre Dame Women's Swimming and Diving Team.
Kyra brings international experience to the Fellowship, having volunteered in Lima, Peru, working at mobile clinics to provide free health care in impoverished areas.
Following the Fellowship, Kyra intends to pursue a degree in medicine and eventually become a physician serving marginalized populations
Logan Schulz
graduated from the Honors Program at Florida Gulf Coast University in 2017, where he majored in Philosophy and minored in Chemistry and Biology.
Since graduating, Logan has completed a pediatric anesthesiology internship at Columbia University Vagelos College of Physicians and Surgeons and has worked on medical research focused on studying potential treatments for sarcopenia at Columbia University Irving Medical Center.
Logan's passion for international health developed during service trips to Nicaragua and Honduras, where he helped operate rural primary care clinics, and a mission trip to Zambia, where he educated remote villages on general health and nutrition topics.
Interested in the intersection between philosophy and medicine, Logan conducted independent research in medical humanities and was editorial assistant for a philosophy of medicine book published in 2018. As president of his fraternity, he helped raise over $20,000 for cancer research.
After his Global Health Fellowship, Logan plans to pursue degrees in medicine and public health, aspiring to become a physician dedicated to improving the access to and quality of health care in under-served areas.