History of Medical Missionaries
Founded in 1997, Medical Missionaries is a volunteer group of more than 200 doctors, nurses, dentists, and others who work to improve the health of the poor in the U.S. and throughout the world. We provide medical care, medical supplies, clothing, and food to the areas we serve. Medical Missionaries is a 501(c)(3) nonprofit organization, and is listed in GuideStar.
History
In May of 1997, Dr. Gil Irwin was asked by All Saints Church in Manassas, VA to lead a medical team to Banica in the Dominican Republic to assess the healthcare needs of the people there. Over the next months, volunteers were recruited and supplies and medicines were collected for a trip to the remote mountainous villages of Banica, near the Haitian border, where the villagers had no access to medical care.
October of 1997, a team consisting of two doctors, four nurses, one civilian, one missionary priest, and a local volunteer traveled from Banica by foot and by mule up steep trails.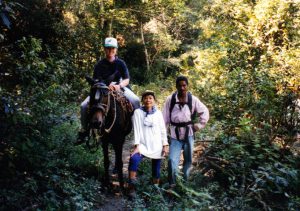 They carried their backpacks, supplies, and water, and it took anywhere from four to six hours to reach each village. During the two week trip, the team traveled to six different villages and treated hundreds of patients every day. Some people had walked with their families for two or three days to see a doctor. Most had never seen a doctor before. The team gave life-saving vaccinations, treated infections, and saw medical conditions that could have been prevented with basic medical care.
Seeing the dire lack of basic healthcare, the team realized the situation would not be greatly changed as a result of this one trip and started discussions of how to best help these people moving forward. The seed had been planted. This was the start of Medical Missionaries.
1998 – 1999
Medical teams continued to make trips to provide medical and surgical care in Banica, DR, and Thomassique, Haiti, just across the border from Banica.
During this time, a Twinning Program was officially started between St. Thomas Church (Thomassique, Haiti) and the U.S. parishes of All Saints Church (Manassas, VA) and St. Henry's (Nashville, TN). Twinning Programs are designed to bring together parishes from two countries to decide how they could help each other.
Medical Missionaries realized that to meet its goal of bringing healthcare to the region, it would require extensive planning and a more formal structure for the growth of the organization. Many volunteers worked together on strategic planning for the next phase of Medical Missionaries.
2000 – 2008
In 2000, Medical Missionaries received its certificate of incorporation in the state of Virginia and official IRS status as a registered 501(c)3 nonprofit charity.
Medical Missionaries leadership started plans to build a permanent clinic in Thomassique, and construction began in 2005. St. Joseph Clinic formally opened its doors on June 4, 2007. The clinic was open five days a week for general consultation and 24/7 for emergency and maternity care. In its first years, the clinic treated an average of 1,300 patients each month (more than 15,000 per year) and facilitated about 25 births per month (300 per year).
2009 to present
After the clinic was operating for a few years, additional needs had to be addressed. First, it was necessary to establish programs that would help prevent some of the more common ailments that were regularly seen at the clinic. Secondly, healthcare was needed by the people living in the remote, outlying villages of Thomassique. In 2009, responding to these needs, the following programs were introduced—Maternity and Infant Care, Water Purification, Treating Childhood Malnutrition, School Lunches, Bon Sel, and Community Health Centers.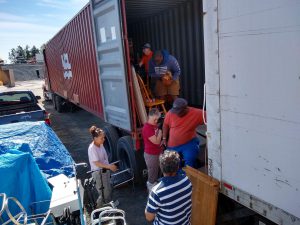 In the U.S. and Worldwide, Medical Missionaries responded to requests for help and sent medical supplies. The organization started to work with partner groups to send 40-foot sea containers of medical supplies and equipment to help build healthcare infrastructure in poor areas of the world, particularly Africa. Medical Missionaries has sent over 165 sea containers of health equipment and supplies worldwide to those in need.
Closer to home, Medical Missionaries has given items such as clothing, health supplies, and medical equipment to those in need in the Washington, DC metro area as well as other areas of the United States. The organization has supported thirty local health groups, made over 300 trips to Appalachia as well as American Indian reservations in Oklahoma and South Dakota delivering clothes and household items, and has sent disaster relief to victims of hurricanes, floods, and tornadoes around the USA.
For more about the history of Medical Missionaries: