Can You Help a Child?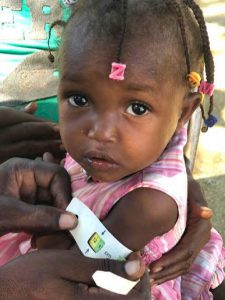 Did you know that one in five children in Haiti are malnourished, and one in fourteen will die before reaching the age of five?* Our Medika Mamba Program is working to reverse this heartbreaking situation by providing a nutritional supplement that restores 90% of severely malnourished children to health in two to three months. Until recently, the Haitian government provided the Medika Mamba supplements, but due to government funding shortages, it no longer does so. We need your help to keep this critical program running! Visit our Medika Mamba fundraising page for more information and to donate.
Support for Medical Teams
Over the past month, Medical Missionaries has answered the requests of medical teams from various organizations that have made or will be making medical mission trips to Cameroon, Peru,
El Salvador, and the Central African Republic. We have been able to supply these medical teams with medicines and medical supplies to help them serve those in need around the world. In August, Medical Missionaries Board Member, Sherry Pace, will be leading a medical team traveling to the St. Joseph Clinic in Thomassique, Haiti. The team will be carrying medicines and medical supplies with them to help with their work at the Clinic and surrounding areas.
Ongoing Aid to Appalachia
Medical Missionaries continued its distribution of donated food, baby supplies, clothing and household goods to different parts of Appalachia in western Virginia and West Virginia.  The Rock Lick Food Pantry, located in Buchanan County, Virginia received the food and baby supplies.  Rock Lick also serves residents of eastern Kentucky and West Virginia.  Two truckloads of clothing and household items were distributed to different communities in West Virginia.  We thank all those who donated items as well as our volunteers who sorted and prepared the donated items for distribution.
International Aid to Ivory Coast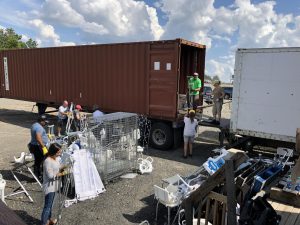 Medical Missionaries recently loaded a sea container that will be traveling to the country of Ivory Coast in western Africa. Medical Missionaries coordinated with an organization called BirthRight Côte D'Ivoire to send this container filled with medical supplies, medical equipment, furniture, clothing and food. Upon arrival in Ivory Coast, the contents of the container will help to set up a birthing center and will also be distributed to clinics in the country that work with BirthRight. The donations will help to improve medical care for expectant mothers in a country that suffers from high levels of maternal mortality. We thank all of our volunteers who came out on a hot summer afternoon to help load this container