Not snow, nor ice or a pandemic can prevent us from helping those in need. This month we shipped many boxes of goods to 3 different states and 3 different countries. As you will read in this Newsletter, the work was successfully done with the help of you, our generous donors and our all-volunteer staff
Spotlight on M. Carles Saint Fleur Junior
Junior shares stories of his childhood and the many challenges he faced growing up in Haiti. He speaks of how, not only did he overcome these obstacles, but he persevered to eventually get his degree and become the Clinic Administrator at St. Josephs Clinic in Thomassique. At the end of this Newsletter, we invite you to read the complete interview told from Junior's perspective. It is a powerful story of overcoming medical challenges and discrimination, but always with perseverance.
Sea Container to Guinea Bissau, West Africa
On a very cold but sunny morning, a small group of masked volunteers gathered to pack a sea container bound for Guinea Bissau. All five trucks parked at our warehouse site were chock full of boxes and equipment ready for their journey to West Africa. Dr. Irwin once again helped us master the art of filling that container. We await news that it arrived safely at its destination and are so grateful for all those who donated to fill it up!
Donations Delivered
In February the people of Manassas Virginia, Southwest Virginia, West Virginia and Jamaica all benefited from Medical Missionaries' deliveries of medical supplies and food:
Medical Missionaries fulfilled an urgent request for medical supplies, adult diapers and pads to an assisted living facility in Manassas, Va.
ECHO (Ecumenical Community Helping Others) came through again by donating 20 boxes of adult diapers and 12 boxes of medical supplies for those in need.
In collaboration with the Reverend Roman Carlton, we packed 200 boxes of medical supplies, 60 cases of dialysis fluid, 30 boxes of adult diapers, 60 boxes of clothing and 20 boxes of shoes. The Reverend runs a mission in Jamaica and also works with and supports a local hospital.
Despite the snow and ice, a truck packed with 4,000 lbs of food to feed 200 families a month was delivered to the Rocklick Food Pantry in Grundy, Va.
Superbowl Squares!
Participating in the Superbowl Squares Event was a fun way to watch Superbowl 2021! Thanks to all who joined in this effort: we raised $1500 for support of our projects! We were as happy as the Bucs were in our success!
Upcoming Events
March/April – Weight Loss Contest – Winner gets an $150 AirBnB Gift Card!
April 17, 2021 – Virtual Dinner – An Evening of Entertainment including guests from Haiti, Appalachia, local musicians and especially Dr. Irwin playing the ragtime piano! Click for details and tickets. 
St. Joseph Clinic, Haiti Update
One of the biggest challenges presently facing the Clinic is the lack of medications that are vitally needed, especially for high blood pressure and suspension medications for children. We are collaborating with other organizations, including Partners in Health and Catholic Church missions, who have helped in the past in an urgent attempt to secure shipments of medications.
The good news is that, although Haiti has had about 11,000 Covid cases, there have been very few deaths reported. No deaths have been reported in the Thomassique area where the Clinic is. However there is a report that scabies is running rampant through Haiti because of poor hygiene practices. The infection spreads quickly through a family but fortunately is treatable by Benzoate, which the Clinic has in stock at this time.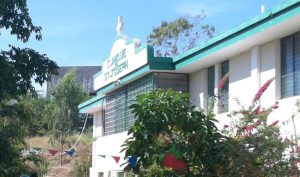 One of the main goals of the Clinic is to educate the community on good hygiene practices. Clinic staff travel to households in surrounding villages to offer training on good hygiene practice, which is reinforced during visits to the Clinic itself. In order to contain and prevent the spread of this infection, washing all linens and clothing in hot water is recommended but, as previously reported in last months' Newsletter, water is not readily accessible in people's homes. The Clinic's commitment remains strong on building best practices and maintaining supportive contact between Clinic staff and the local people.
Thank you from El Salvador!
We recently received a thank you note from a family in El Salvador. This note is meant for all of you, our generous donors: "Thank you for all the colostomy supplies and wheelchair for my uncle, Rogelio. Also for helping my cousin, Delis two years ago; unfortunately he passed away in July, 2020. Thank you for all that you're doing. Our family has so much gratitude to all of you." Gracias!
Community Outreach
The Rotary of Manassas, VA invited Dr. Irwin to speak at their weekly meeting. He provided a history of our work and the support needed to maintain the projects that are critical to the people we serve. One of our volunteers spoke about what it means to be a volunteer for Medical Missionaries. We appreciate the opportunity to share our work and we look forward to partnering with them.
If your organization, corporation, youth group, high school volunteer group, church group, etc. is looking to collaborate with Medical Missionaries, please reach out to us (info@medicalmissionaries.org) to set up a virtual or in person meeting.
Urgent Request – Van
We are still in need of a donation of a commercial van. The van will be used by our partners Bud and Alice to transport much needed clothing and supplies to the hamlet villages in their community in West Virginia. If anyone can help with this urgent request please call Dr. Irwin at 703-335-1800 or send us email at info@medicalmissionaries.org. You will be given a tax receipt for your records.
Interview with M. Carles Saint Fleur Junior, Clinic Manager, St. Joseph Clinic 
Q: Junior, please share with us your story.
I grew up with a mother only because my father died when I was in my mother's womb by a car accident. When I was 15 years old, I climbed a mango tree and I fell. Since then I have spent a lot of time in hospitals in Haiti. My mother decided to go with me to the Dominican Republic. For me to ride in that car was very difficult because I can't sit, just lying down. When I was in the Dominican Republic in Banica, a small village close to the borderlands of Haiti and the DR, I found a Catholic priest, Father John Thomas O'Hara, from the St. Francis of Assisi Church. Father O'Hara helped me with my faith. He paid all hospital fees for me and for my food.

After that trip my mother ended up selling her house and spending it all in Haiti as I had to make many trips from hospital to hospital, When I returned to Haiti, Father O'Hara built a house for my family. I am still living in that house which is in Hinche, Haiti. He paid for school for me and I graduated high school.

I then graduated from Administration School and Law School. It was very hard in Haiti for handicapped people to go to school because they don't have ramps for wheelchairs either on the street or in school. Some days I needed to go to high levels of the building for class; some days people helped, some days I couldn't go and went back home. But I didn't forget what I needed to become a success.
Q: How did you begin your work with Medical Missionaries?
In January 2008 a Medical Missionaries' medical team saved my life and we still remain a big family. When I got sick again, I went to St. Joseph Thomassique Clinic where I found Dr. David Michael Snyder, Sherry Pace, RN, Julian Hertz, Fellow and Ashley Pavlic, Fellow. They did the surgery that saved my life and helped me so that I could sit in a wheelchair.

One year after I finished my training I really wanted to get a job. In Haiti handicapped people found a lot of job discrimination. Finally, I got an interview with Dr. Peter Dirr, a former board member of Medical Missionaries and a saint. He offered me the job of Assistant Clinic Manager. I felt like I was born once again.
Q: What does your work involve at the Clinic?
I started working there November 2012. It was very hard and very challenging to reorganize everything. On July 1, 2013 I became the Clinic Administrator. This was another great thing for me and everyone was so happy. My work at the Clinic is to help doctors and physicians provide quality care to all patients; put materials for all daily services such as emergency, maternity, vaccination, mobile clinics; make inventories of medicines and medical materials; make maintenance repairs; plant coconut, breadfruit and mango trees; enter the names of all women who gave birth at the Clinic and send a monthly report to Medical Missionaries. Despite my disability and my poor health, I finally do all the work and more sometimes. I am a living fighter for my work at the Clinic
Q: What does it mean to you to work with Medical Missionaries?
Working with Medical Missionaries is a great opportunity. Medical Missionaries staff give training and make you feel like they are family. I am especially happy with the relationship with the Fellows and the teams that visit the Clinic. Everyone is treated with great respect. I am proud, honest and a very good citizen who helps others.
You can see the St. Joseph Clinic staff here.  Help us support the Clinic by visiting our donations page.