Rocklick Food Pantry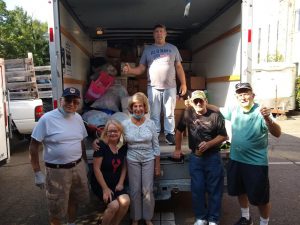 Volunteers from the Rocklick Food Pantry made the trip this month to the Medical Missionaries office to pick up much needed food for the pantry, as well as toys to begin preparations for the upcoming holiday season. Medical Missionaries has received letters from community leaders expressing the vital role that the food pantry plays in helping the citizens of Grundy, VA and the surrounding areas in normal times but especially during the pandemic.
Many of the residents have been out of work due to layoffs since the pandemic began, layoffs that hit amidst what was already a tough job market in the coal and gas industries. Clients of Rocklick include people who even with a job still have a tough time putting food on the table for their families due to other living expenses. These people are making just enough that they are unable to qualify for government assistance but are struggling to keep their heads above water.
There are elderly who need the food assistance because their life sustaining medications take over half their monthly incomes. As Buchanan County Sheriff, John McClanahan, said, "Every penny given, every piece of food donated, and every hand volunteered has helped to lift a burden off of a family."
We thank all of our donors and volunteers who have contributed to our ongoing efforts to aid the Rocklick Food Pantry. We are continuing to accept non-perishable food donations which can be dropped off at the Medical Missionaries office, 9590 Surveyor Ct., Manassas, VA 20110.
We are also accepting donations of new toys to send to the pantry for their holiday gift distribution in December. If you would prefer to make a monetary donation, you may do so by mailing a check to the office or contributing online.
Donating through Amazon

There are two easy ways to make your donations go further if you shop at Amazon. The first is to use https://smile.amazon.com and select Medical Missionaries as the charity you would like to support. Amazon will donate .5% of the purchase price of eligible products to Medical Missionaries.
The second way is by using the Medical Missionaries Donation List on Amazon. We have created a list of items that are needed by food pantries and other groups that we serve. Once purchased, Amazon will ship the items directly to the Medical Missionaries office in Manassas, VA. We appreciate your consideration of these convenient ways to donate to our efforts.
Container to Jamaica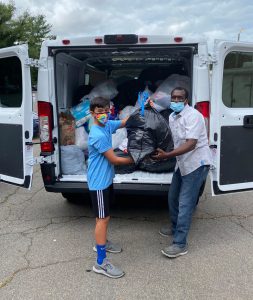 This month volunteers loaded supplies that will be given to those in need on the island of Jamaica. Rev. Russell worked alongside our volunteers to pack up the supplies. Medical Missionaries has been supporting his mission congregation in Kingsport for 20 years. These supplies will help his work there and will also be given to a local hospital that suffered severe storm and flood damages.
Aid to DC Metro Area and West Virginia
Medical Missionaries was able to help out a variety of communities and individuals in the local region. A large donation of school supplies was made to the Georgetown South development in Manassas and will be distributed to around 500 students. A shipment of clothing and household supplies was delivered to areas west of Elkins, West Virginia in Appalachia. Medical supplies were donated to the Glen Burnie Behavioral Clinic in Maryland which will be opening soon to serve people with addiction and other behavioral issues. Donations of wheel chairs, walkers, and diapers were distributed to local individuals. We are grateful for all of our donors and volunteers who make it possible for us to serve these communities.
St. Joseph Clinic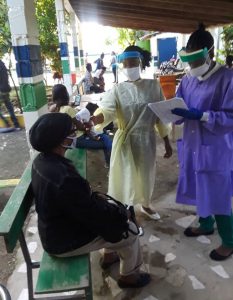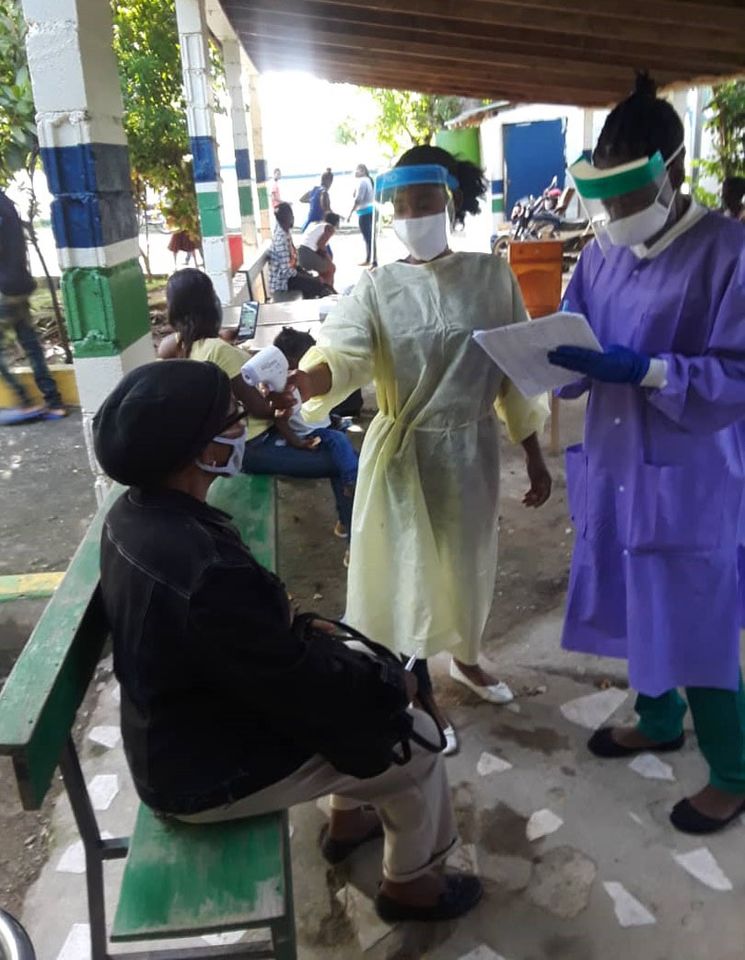 Fortunately, so far, the Thomassique region has experienced very few Covid-19 cases. As people are becoming more comfortable venturing away from home, St. Joseph Clinic is seeing more patients coming to the Clinic. Staff at St. Joseph Clinic is adhering to best practices to keep themselves and their patients safe during the pandemic.
Between the large amount of supplies we were able to ship to Haiti and those received from the Haitian Ministry of Health (MSPP), staff is equipped with PPE (personal protective equipment) and other supplies. When patients arrive at the Clinic, they are provided with masks, and their temperatures are taken as part of the screening process. Rapid COVID tests are on hand, if needed. We hope everyone continues to stay safe and healthy.
While the Thomassique region seems to have been spared the damage and devastation that other areas of Haiti sustained from Tropical Storm Laura, we were saddened to hear that Dr. Vincent Wilnet, former medical director of Saint Joseph Clinic in Haiti, lost his wife and son due to the storm. They were in a car in the Port-au-Prince area and were swept away by the flash floods. Please keep Dr. Vincent and his family in your thoughts and prayers, along with all those whose lives were affected by the storm.
Catawba Indian Reservation
In addition to the clothing, sports equipment, school, and hygiene supplies that were delivered in May to the Catawba Indian Reservation, we were able to send down diabetic supplies and equipment this month. Medical Missionaries was happy to be able to fill this request for help with a specific need of the Catawba community.
Caring Hearts Online Auction
Our Medical Missionaries Caring Hearts Online Auction had to be delayed this spring due to the pandemic. We are hoping to have the auction up and running sometime in October. Stay tuned…we have some great items waiting for your bids! We will have more details to come next month.