St. Joseph Clinic Fire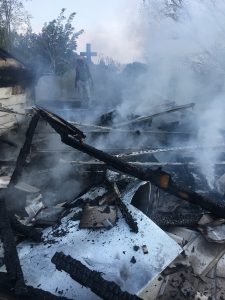 Dealing with the plight of the poor presents many challenges, and now Medical Missionaries faces the loss of electrical power at St. Joseph Clinic in Thomassique, Haiti due to an electrical fire with total destruction of solar panels, batteries, inverters, and the structure in which they were housed. The timing could not have been worse as we are now dealing with the potential of the Covid-19 pandemic reaching Thomassique as well. As we are writing, there are very few cases in Haiti and none in the Thomassique area, but viral transmission may end up being very devastating there.
Most families live in one room dwellings with dirt floors. Markets where people congregate in close contact are part of daily life as these are where people need to go to purchase food and supplies as well as to sell their crops to earn money. The transmission of the virus will most certainly be enhanced due to these situations.
Trying to get supplies to rural Haiti in normal times can be difficult, but during the time of this pandemic, it is a logistical nightmare. We are working hard to find the best way to make the repairs to the electrical system and provide the supplies and help the Clinic staff needs. We ask you to financially support the Clinic as it rebuilds and prepares for the difficult weeks and months to come. Your generosity has never been more needed or appreciated.
Ivory Coast Container
Loading for a sea container that was due to be shipped to the Ivory Coast has been delayed because of Covid-19. It takes many people working in the very tight and hot space of a 40 ft. container to pack it as efficiently as possible. The risks of viral transmission are greatly advanced in this environment. We will resume our work in this area as well as open back up to receiving donations on a regular basis as soon as it is deemed safe to do so.
Rocklick Food Pantry 
We received a call last week letting us know that the Rocklick Food Pantry has no food to distribute to its clients. It had been able to operate three weeks longer than other food banks in the area, but now it is struggling, too. Medical Missionaries continues to support the hunger issues in this rural area, and will hopefully be able to send another 3000 lbs of food, baby supplies, diapers there soon.
The virus has caused much extra suffering in this area that borders Eastern Kentucky, West Virginia, and remote Southwest Virginia. Non-perishable food donations are urgently needed, and even though the office is currently closed to accepting regular daily donations, special drop offs can be arranged by emailing info@medicalmissionaries.org or calling the office 703-335-1800.
Covid-19 Update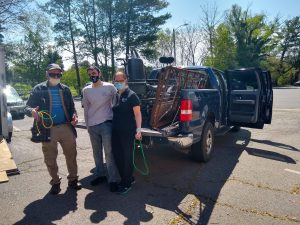 In response to the current restrictions in place and for the safety of our staff and volunteers, our office is still closed, and we are not accepting most donations there at this time. Please email us at info@medicalmissionaries.org, and we will notify you as soon as we begin accepting donations again.
The past few weeks have given rise to more requests locally for equipment and supplies to clinics, health care workers, and uninsured people than ever before. Beds, wheelchairs, walkers, diapers, and other supplies have been given to local people in need, as pictured above. Please consider making a monetary donation to Medical Missionaries to support these efforts.
We couldn't do this work without your help!