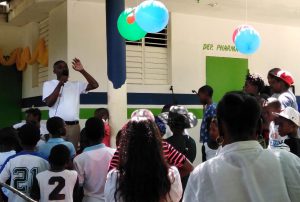 June 4, 2019 marked the 12th anniversary of the opening of St. Joseph Clinic in Thomassique, and was a great day of celebration for the Clinic and the local community. There was a big turnout for the anniversary party that included health education sessions, along with fun games and raffles.
Villagers visited tables that provided health education on fighting malnutrition, benefits of using Bon Sel (Good Salt), the importance of hygiene, and listened to Clinic Director Dr. Lawrence and Clinic Manager Junior Charles speak about these topics and the Clinic's programs. Everyone also enjoyed fun activities and games, and the chance to enter raffles for various prizes.
Before the opening of the Clinic, visiting medical teams from the USA provided care wherever they could find space, sometimes even treating patients in open-air clinics, under trees.
Opened in 2007, the Clinic continues to be the only healthcare facility serving a region of approximately 125,000 people.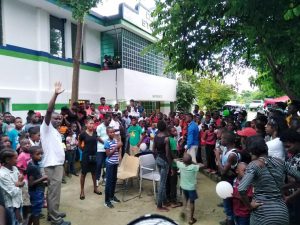 Over the years, the Clinic's programs have expanded to include a Maternity and Infant Care Program, the training of Matwons (traditional birth attendants) who assist home births throughout the area's outlying villages, a Vaccination Program, a Medika Mamba Program to fight childhood malnutrition, a Dental Hygiene Program (including local schools), a Chronic Disease Program, and expanded health care into remote outlying villages by opening Community Health Centers.
The Clinic also promotes the use of water purification systems in local homes, and the benefits of using Bon Sel, a fortified salt product that eradicates some diseases.
Medical Missionaries greatly appreciates the work and support of our volunteer medical professionals, Global Health Fellows, volunteers, partners, and donors who make our work possible